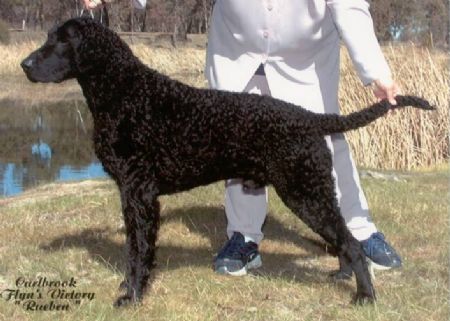 Welcome, Curlbrook has been in existence for over 35 years and the founders Jane and Clive Kibble have a family connection to the curly which spans over 6 decades. We remain a family kennel with three generations of the family involved in promoting the breed we love so dearly.
Curlbrook's objective is to breed curlies who are sound with great temperaments and are capable of undertaking any task set them, be it showing, retrieving, obedience etc or as loved family companions.
Curlies are a unique breed, they are very affectionate and fit in well to family life, be it running and playing with the children or having a much enjoyed cuddle on the couch with the adults. The curly is a breed you need to own and love to know well. They are steady and easily trained. The characteristics of the curly is detailed on this website for your information.
Curlbrook kennels is excited to be able to continue to promote our beloved curlies who have been a part of our lives for so many generations.
Contact Details
Jane Kibble and Melinda Naughton
Stawell or Taradale, VIC, Australia
Phone : 0401 138 905
Email :
[email protected]
130632 Visitors