Over the Years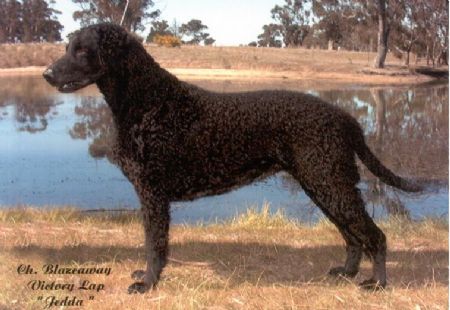 Curlbrook Kennels is proud of our long history with this beautiful breed, many generations of our family (Kibbles) have shared their lives and been loved by a Curly Coated Retriever for over the last 70 years.
Living in country Victoria during the depression, the Kibble family relied on their curlies for help in the hunting of game, which often kept the family fed. The curlies also providing much fun, protection and enjoyment for the family. I am told they also provided warmth in the bed at night!!
The breeding history of the original Kibble lines were from the Tealbrook prefix, and proved to be hardy sound animals for the tasks that were set them, as well as being soft and loving to the younger members of the family, proving that the curly is not only a very versatile breed but a wonderful family member.
Most of the Kibble family today still have curlies as their family pets.
When Curlbrook was formed by Jane and Clive Kibble back some 30 + years ago we enjoyed success in the show ring, and more importantly, enjoyed sharing our life with our curlies. Included in our breeding lines are Champions from the Curltriever, Blazeaway and Keysteel Kennels. The foundation Bitch of the Curlbrook line was an imported bitch, Mahimanu Cassandra, from New Zealand. This introduced an excellent hunting line to compliment the already proven show lines.
Clive continued to hunt and use our dogs in the field until he became too ill. Then he adpated to the situation and the curlies would go on long hikes with him and his mobility scooter.
Sadly, Clive passed away and one of the things that I thank him for is teaching me all he knew about this wonderful breed. My family and I have continued Curlbrook Kennels in his memory.
Contact Details
Jane Kibble and Melinda Naughton
Stawell or Taradale, VIC, Australia
Phone : 0401 138 905
Email :
[email protected]